One of my favorite Digital artists
Crissy Armstrong
is creating a Brand New Challenge Blog!
Sundays With Crissy
a bi-weekly challenge blog starting April 11th. I know there will be several amazing crafters who will be applying for a coveted DT spot but I can't win if I don't Play! The image I chose is called
Lion Hugs
you can find this image at
Squigglefly
.
I followed the Sketch challenge from
Friday Sketchers
. I used MME papers with Prima pearls and flowers.
I colored the image with my trusty old colored pencils. I love how this card makes me feel the strength of the lion but the softness of the lamb. I created a matching envelope using
Priscillastyles
envelope design.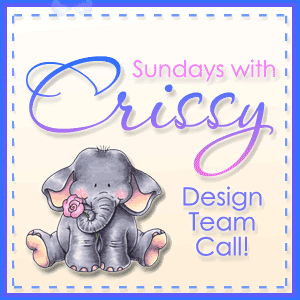 Thank You Crissy for the opportunity to join in your new adventure!
Thank you to my blog friends for stopping by to take a look at my projects!
Have a Happy Crafty Day!
A few more challenges: